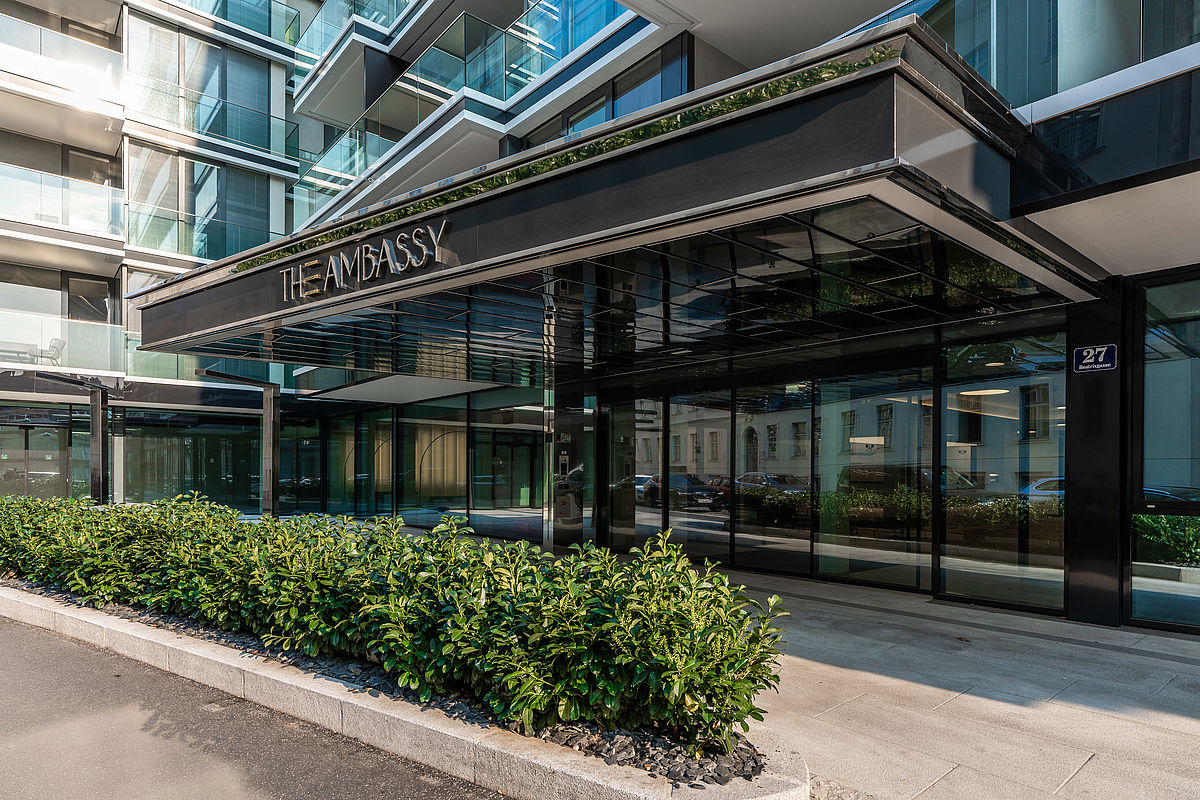 EXCELLENT LIVING IN THE DIPLOMATIC QUARTER
BEATRIXGASSE 27, 1030 VIENNA.
Welcome to THE AMBASSY PARKSIDE LIVING in the safe and prestigious embassy quarter of Vienna, where the who's who of the diplomatic elite lives. Situated in the direct vicinity of Ringstrasse and the first district, this landmark building sets new standards and combines all of the advantages of urban, contemporary living:
A privileged and safe location near the city centre – surrounded by over thirty diplomatic missions
A green setting between Stadtpark and Modenapark
Spectacular views to Vienna's most famous landmark, St Stephen's Cathedral, and to Kahlenberg hill
Luxurious fixtures – high-quality, refined materials, stylish and sophisticated
Choose between three different lifestyle categories:
SMART apartments measuring from 50 to 75 m²
FAMILY abodes measuring from 60 to 165 m² and
AMBASSADOR residences with a living space of up to 190 m².
SURROUNDED BY GREENERY. IN THE HEART OF THE CITY.
Its exceptional architecture turns THE AMBASSY PARKSIDE LIVING into a unique overall sculpture with its "open" facade, large areas of glazing with floor-to-ceiling windows and integrated sun and privacy screening, as well as recessed balconies, terraces, balconies and gardens. The luxury apartments are adapted to their residents: your new home in the centre of Vienna has perfect floor plans and provides space for your individual needs. Move into the apartment of the future with an efficient energy concept and enjoy your tailor-made Premium Concierge service. Living in luxury.
WELCOME TO YOUR NEW LUXURY PROPERTY IN VIENNA.

Contact & Request
Our team of real estate agents would be delighted to advise you personally and to answer any questions you might have. We look forward to hearing from you:

UDA urban development agency GmbH
Mail: living(at)theambassy.com
Phone: +43 (1) 365 365
Enquiries
Enquiries
The real-estate companies EHLImmobilien GmbH, OTTO Immobilien GmbH and Marlies Muhr Immobilien GmbH have been exclusively assigned with the sale of THE AMBASSY PARKSIDE LIVING at the address 1030 Vienna, Beatrixgasse 27. In the case of a successful mediation, commission of 3% of the purchase price plus VAT will be charged. In accordance with Section 6 para. 4 of the Estate Agents Act, we wish to inform you that there is a close business relationship between the estate agent and seller. Your data will not be forwarded to third parties.